Drupalexp Portfolio
The Drupalexp Portfolio module combine with Drupal BxSlider module to allow dynamic portfolio pages to be created quickly and easily. It provides an excellent starting point for those who want to build a portfolio.
HOT function: with Drupalexp Masonry view style only use in this theme, you can build a masonry visually without any complex setting

1. Portfolio displays:
Zap theme provides 4 view modes for display portfolio
Teaser
Portfolio Masonry: You can arrange images by resize width, height of image visually on GUI
2. Manage portfolio categories:
Portfolio catetories is using to filter portfolio. To manage portfolio categories, go to Structure → Taxonomy → Portfolio Categories menu to add new item or modify it.
3. Configure portfolio use video
If you want to use VIDEO PROJECT, please create field Portfolio Media with machine name: field_portfolio_media and upload media file to this field. The template for detail portfolio is available to render video
4. Configure to show/hide sort portfolio dropdown
To show/hide sort portfolio dropdown in portfolio pages/block, just check/uncheck on Enable Sort when clicking on Settings link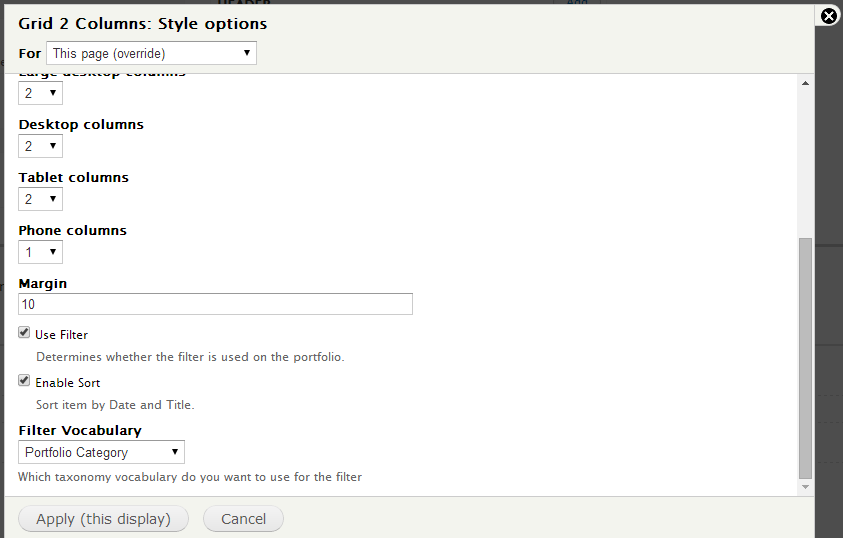 5. Portfolio Settings
Portfolio Image clicking configuration
In teaser view: there are 3 options when user clicking on image portfolio
Do nothing
Link to content: link to detail page

Open Pretty box: open a Pretty box

In portfolio detail page, there are 2 options when user clicking on image portfolio

Do nothing

Open Pretty box: open a Pretty box
6. Portfolio Detail Style
There are 2 style for portfolio detail page:
Half Slider: show image a haft width
Full slider: show image full width